BUDGET CAMPER VAN
$ 150.00 / Day
Rigs • Anchorage, Alaska

|

Sleeps 2 • Seats
We feature SUV-type vehicles equipped with a hard pop-top roof tent that is easy to use. They come complete with the same camping gear that is provided with the Jeep pop tops. Early season (May – June 14) rates start at $100/day and go up to $125/day* High season (June 15 – August 15) rates start at $125/day and go up to $150/day* $500.00 deposit at the time of the reservation with the balance due upon arrival. Included in the rental are 150 miles per day, additional miles can be purchased for .35 cents per mile. Kayaks and bikes are available to rent. We highly recommend renting bicycles, we include the bike rack with the bicycle rental. Collision Damage Waiver is available. Minimum age for a driver is 25. We do charge a $100.00 cash deposit which will be fully refunded when the camp gear is returned in the clean condition that you received it. We do have a $250.00 additional cleaning fee if the vehicle is returned extremely dirty.
Read more
WE PROVIDE CAMPING GEAR AS A COURTESY, UNLIKE OTHER COMPANIES, WE DO NOT CHARGE FOR THE USE OF OUR GEAR.  THIS IS NOT STATE OF THE ART GEAR.
WE WASH THE SLEEPING BAGS AND PILLOW CASES BETWEEN EACH RENTAL.  WE DO EXPECT YOU TO RETURN THE REMAINDER OF THE GEAR IN THE CLEAN CONDITION THAT YOU RECEIVED IT.  IF SOMETHING IS UNSATISFACTORY/BROKEN OR NOT WORKING, THAN YOU SHOULD PURCHASE WHAT YOU NEED. YOU MAY CONTRIBUTE IT AT THE END OF THE RENTAL OR YOU MAY TAKE THE PURCHASED ITEM WITH YOU.  WE DO NOT WARRANT THE CONDITION NOR OPERATION OF ANY OF THE CAMPING GEAR. (WE JUST CANNOT CONTROL THE ACTIONS OF ALL OF OUR RENTERS)
IF YOU REQUIRE PARTICULAR EQUIPMENT OR HAVE A MINIMUM STANDARD THAT YOU DESIRE, YOU ARE WELCOME TO BRING YOUR OWN GEAR.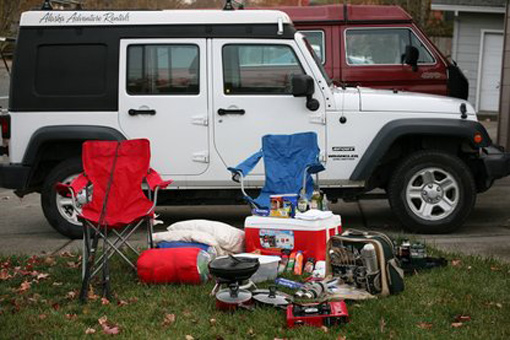 ALASKA TRAVEL ITINERARY
Camping Gear:
1 Large Cooler
1 Camping Stove + 1 fuel
1 Equipment Container
2 Sleeping Bags $20.00 ADDITIONAL CHARGE per bag applies (cleaned & rolled)
2 Pillows (clean, place in tall white trash bag)
2 Pillow Cases
2 Camping Chairs
BEAR SPRAY RENTAL $20.00 per canister
We have a $100.00 cash deposit which will be fully refunded when the camp gear is returned in the condition that you received it. (clean)
Items Inside Equipment Container:
Fry Pan / Skillet
Mess Kit (cooking pot set)
1 Cutting Board
1 Can Opener
1 Spatula
1 Chef Knife
1 Coffee Pot
Box of Matches or Lighter
Set of Two: Dishes, Utensils and (2 or 4) Hot Water Cups
Misc. Items:
1 Large Bucket
1 Small Dish Soap
1 Blue Sponge
1 Towel
1 Trash Bag
Extra Items if Available:
Cooking Oil
Salt & Pepper
Foil
Paper Towels
Toilet Paper
Stove